Geodesy and geoinformation – changes in the world
The two-year (four-semester) Master of Science (M.Sc.) programme Geodesy and Geoinformation at Darmstadt University of Technology qualifies you in terms of
the methods to efficiently capture spatial changes in the world,
the methods for targeted analysis and interpretation of the collected data, and
the methods for using the information gained in the process to initiate sustainable change in the world.
The digital transformation (e.g. Industry 4.0) is embedded in all engineering disciplines and opens up many professional connection opportunities for geodesy in interdisciplinary cooperation. Especially the focus on civil and environmental measurement technology and the closely related professional field of the engineering geodesist represents a diverse field of activity and combines in-depth competences in the independent planning, implementation and evaluation/assessment of (digital) measurement processes with the integration into digital worlds, such as 3D building models, which almost perfectly represent reality both geometrically and structurally ("digital twins") and, among other things, enable reliable statements about the current condition ("structural health monitoring").
But the spectrum of engineering geodesy is, of course, much broader: Among many other things, extraordinary structures in civil engineering, robots in industrial manufacturing processes, moving and flying multi-sensor platforms for environmental monitoring, but also risk assessments on "natural" objects such as landslides or rock glaciers are essential topics for engineering geodesy and make the professional field so diverse and interesting, but also challenging. Engineering geodesists with a Master's degree are absolute luminaries in their field and always maintain professional exchange with other engineering disciplines. A responsible and varied field of work!
Your typical later professional environment can be found, for example, in engineering offices for surveying and construction, at construction companies, energy suppliers, in the automotive industry and much more. Even if you want to build ships (digitally), there is a market for that.
The Earth as a whole as well as large-scale tasks are the focus of this priority. Properties and changes of the system Earth are measured and analysed with global and regional geodetic methods. Thus, important knowledge is gained about the state of the Earth, deformations of the solid Earth, changes in the hydrosphere, cryosphere, atmosphere, and anthroposphere. Earth observation is mainly carried out using satellite-based technologies such as global satellite navigation systems, radar instruments, and multispectral camera systems. A wide range of integrated scientific analyses are carried out on the basis of the diverse data. Advanced methods from the fields of data science, artificial intelligence, machine learning, signal processing, etc. are used.
Sustainable spatial development at national, regional and municipal level requires a wide range of information for continuous monitoring of current changes in order to identify negative developments at an early stage and, based on this, to take appropriate measures to ensure sustainable development. The monitoring, planning and implementation methods required for this are the content of this focus.
If you are already a graduate of a university study programme (bachelor's or diploma) or a comparable study programme (e.g. from a foreign educational institution) in one of the three areas of specialisation and would like to expand and deepen your knowledge, then our Master of Science in Geodesy and Geoinformation with the appropriate focus area is just right for you.
The degree programme is offered in English in those areas that also qualify students for international activities. In the modules, you will usually meet students from other degree programmes, so that you come into an intensive exchange with the way of thinking of other disciplines. Through a variety of student projects, you will also have the opportunity to apply the methods you have learned in a practical way.
A degree opens up diverse and excellent opportunities in your chosen area of specialisation, both in the national and international professional world. Of course, you will also receive the skills to act successfully in research and to document this through a doctorate.
In the four-semester degree programme, you will deepen your previously acquired skills in one of the main areas of specialisation of geodesy and geoinformation under the relevant scientific aspects. The ability to recognise and solve technical challenges and tasks in their complexity determines your studies as much as the development of new types of solutions.
The ability to willingly engage in interdisciplinary and transdisciplinary cooperation beyond professional, administrative and political boundaries is just as omnipresent as the ability to weigh up different solutions, explain them objectively and understandably, make decisions and justify them.
The Master of Science Geodesy and Geodesy and Geoinformation is designed for two years or four semesters. You need to achieve a total of 120 credit points.
A guideline for estimating the scope: most modules are designed for 6 CP. Thus, on average 30 CP are to be heard per semester in five to six modules.
We offer you a wide range of options to design your study plan according to your wishes. See here an exemplary schematic of what your Master's programme could look like.
Semester course and examination schedule
We offer you a wide range of choices when compiling your semester course and examination schedule . Initially, you can choose between three areas of specialisation if you fulfil the respective required prerequisites. You will then supplement the skills gained in one of the three areas of specialisation with expanding modules, entirely in line with your idea of your personal professional future.
The study programme allows the choice of modules according to the following job profiles:
Engineering geodesist:
Construction measurement technology with special surveying solutions in structural and civil engineering (including precision surveying and staking out)
As-built documentation of engineering structures for Building Information Modelling (BIM): Scan2BIM / Drones2BIM
As-built documentation of engineering structures for Building Information Modelling (BIM): Scan2BIM / Drones2BIM
Environmental measurement technology / monitoring and geoinformation systems (GIS)
Technical traineeship / publicly appointed surveyor
and much more.
Observing the Earth, from geometric and physical changes to the effects of climate change.
Efficient and sustainable mobility of people, vehicles, sensors.
Scientific research in interdisciplinary cooperation with other fields of science
Sustainable urban development
Sustainable development of rural areas
Real estate valuation
Technical traineeship / publicly appointed surveyor (if the required prerequisites are met)
With the Master's thesis you show that you can independently apply the knowledge acquired in the modular course of study. On your way to this goal, you will be supervised by a mentor who will provide you with professional support.
Within the framework of the study regulations, students can arrange their Master of Science in Geodesy and Geoinformation flexibly and individually by using the following options:
Choice of area of specialisation (51 CP – if the required prerequisites are met)
Subject-specific elective area (30 CP) to complement your skills specific to the focus area
General elective subject area (12 CP) to broaden your skills
The student can select the topic for the Master's thesis as per the student's own interest. Due to the scope of the work (24 CP, approx. 6 months duration), it can also be worked on at a foreign partner university.
This flexibility allows you to set up your own individual study plans. This is done in consultation with the assigned mentors. This ensures the suitability of the curriculum for academic and scientific qualification in accordance with the objectives of the programme.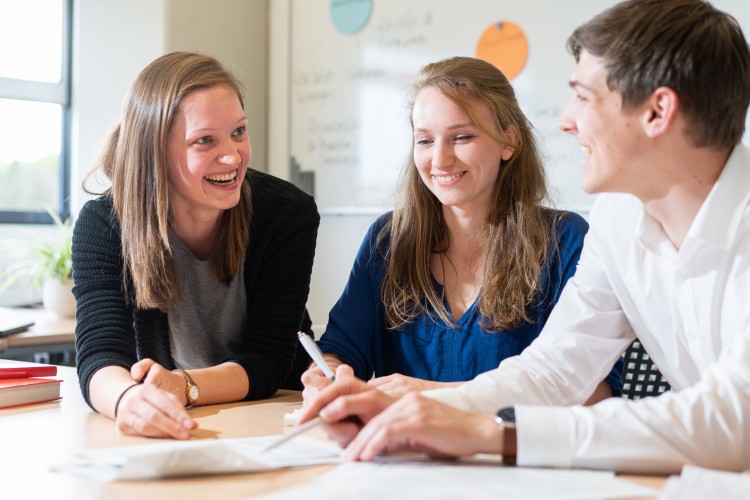 Picture: Jan-Christoph Hartung
Student Advisory Service
You will have a mentor at your side who will support and advise you in this matter. This will make your individual study plan a success.
Admission and Application
For admission to the Master of Science Geodesy and Geoinformation, you need general engineering knowledge as well as basic subject knowledge in the specialisation area you would like to study. If you do not yet have this knowledge, you can make up for it to a certain extent during your studies (requirements).
The entry competences required for subject-specific admission can be found in the Study regulations. Prof. Dr.-Ing. Andreas Eichhorn, study advisor for geodesy, is happy to advise you on this.
Information on application and admission can be found on the main pages of the TU.