the study program starts with the winter semester 2021/22
Civil Engineering – down to earth and out of the box
Strong bridges, stable tunnels and tall structures that can withstand storms, snow loads and earthquakes require reliable calculations and data. Civil engineers do this: they know exactly how to build the tallest buildings so that they stand safely, face the challenges that a construction site brings, search for new materials that are resistant, environmentally friendly and durable, they bend glass and print steel, build roads and stadiums and coordinate all the necessary processes. And thus build our environment a little better every day.
Graduates of the Bachelor's degree programme in Civil Engineering and Geodesy are qualified for a scientifically oriented professional activity in selected fields of civil engineering and geodesy.
The six-semester Bachelor of Science degree programme in Civil Engineering and Geodesy comprises 180 credit points (CP) and is divided into the compulsory engineering area (Study regulations ), in which the basic scientific and technical knowledge is taught, and the specialised studies (this includes a compulsory and an optional area), in which the students acquire specialised content for a subsequent Master's degree programme or a first professional activity along recommended career paths. At the TU Darmstadt, however, the Master of Science is considered the standard degree and is therefore recommended.
Engineering (cumpolsory area)
In the first semesters, the basic knowledge of the natural sciences and technology is taught intensively in the compulsory engineering area (modules amounting to 91 CP).
Specialised course of study (Compulsory area)
- Basic knowledge of the entire spectrum of civil engineering to the extent of 47 CP
- Bachelor thesis to the extent of 12 CP
Specialised course of study (Elective area)
Students can select subject modules (24 CP) in the elective area according to their own interests or along recommended career paths. In doing so, competences are acquired for a subsequent Master's degree programme or a first professional activity.
The following occupational profiles are recommended
General elective area
In preparation for the subsequent bilingual Master's degree in "Civil Engineering", students can make up for any English language skills they lack in the elective area or acquire modules (amounting to 6 CP) from the entire range of courses offered by TU Darmstadt as an interdisciplinary course within the framework of a "Studiums Generale".
Bachelor thesis
At the end, students demonstrate with their Bachelor's thesis that they can independently work on a problem from the field of civil engineering using scientific methods.
The details of the programme can be found in the Studienordnung and the Modulhandbuch, which can be found on the Downloadseite des Studienbüros . The study and examination schedules are also available there.
And because something can always change:
With us, you can study according to your own interests.
Due to the common compulsory engineering area together with geodesy and environmental engineering, it is easy to change to these degree programmes at a later date.
Free choice in the specialised studies (24 CP)Within the specialised studies, modules can be brought in by equivalent other engineering, natural science or humanities modules.
Choice of topic for the Bachelor's thesis according to interest
Credit points can be earned during a stay abroad through recognised equivalent modules.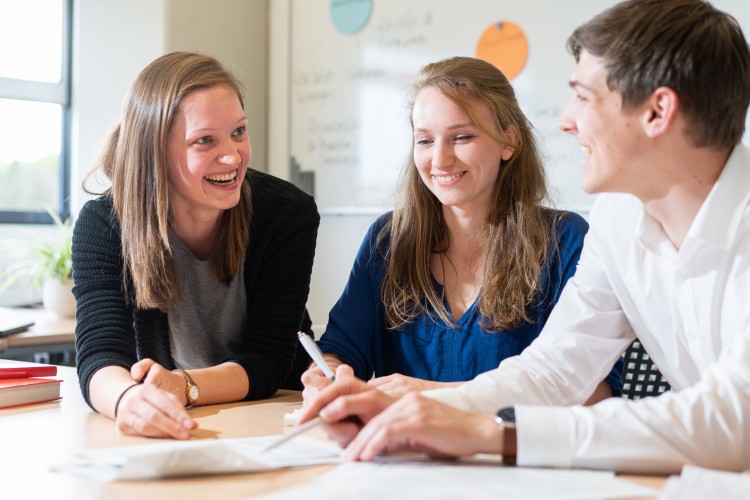 Picture: Jan-Christoph Hartung
Student Advisory Service
Students have a mentor at their side who provides support and advice. This enables an individual study plan.
Application and admission